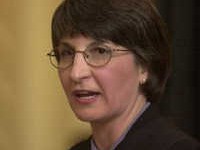 New Jersey Supreme Court justice, Jaynee LaVecchia, recently filed a lawsuit against Breanna Divito, the driver, and the company, Cosy Cupboard Tea Room, and their carrier, Peer less Insurance Company, over her husband's accidental death. Her husband, Michael Cole, 67, was a former Division of Law director, chief counsel to Governor Tom Kean and a name partner in the well-known New Jersey law firm DeCotiis, FitzPatrick & Cole. He died in the year 2011, 6 weeks after he was hit by a car in a supermarket parking lot, while the manner of death was acknowledged as an accident.
The mishap occurred on Aug. 7, 2011, in Morristown, New Jersey in the Kings supermarket parking lot when, according to the driver Divito, she did not see or hear anyone while backing in the parking lot and that someone told her that she had hit someone while she made the exit. According to a police officer, Cole was found with an abrasion on his head, not knowing what had just happened and sitting up with the help of his wife.
The witnesses said that someone yelled at Divito to stop from a distance of 30 feet but the vehicle kept moving backwards and hit Cole right in the thigh, knocking him down with his head hitting the ground with a loud thud. She was also reported to be ticketed by the officer for unsafe backing.
According to the case filing, after the accident, due to excessive internal bleeding, he was diagnosed with a subarachnoid hemorrhage and a subdural hematoma after being immediately taken to Morristown Memorial Hospital. After being discharged from the hospital, Cole was sent to a rehabilitation facility for four days where he had a seizure and was given anti-epileptic medicine.
A month after the incident, Cole died on his way to the hospital in an ambulance after he fell in his house and was found unconscious on the floor by his wife, who filed a lawsuit two years later in Morris County Superior Court.
Even though Divito was driving her very own vehicle buying supplies for her employer Cosy Cupboard, mentioning the liability policy of the company, LaVecchia filed a complaint against Peerless and Liberty Mutual Group for refuting the insurance claim.
Arguing on the dates the insurance policy was bought and the denial of summary judgement, the lawyers have refused to give any statement. LaVecchia has a history of suing companies over insurance benefits in relation to her husband.